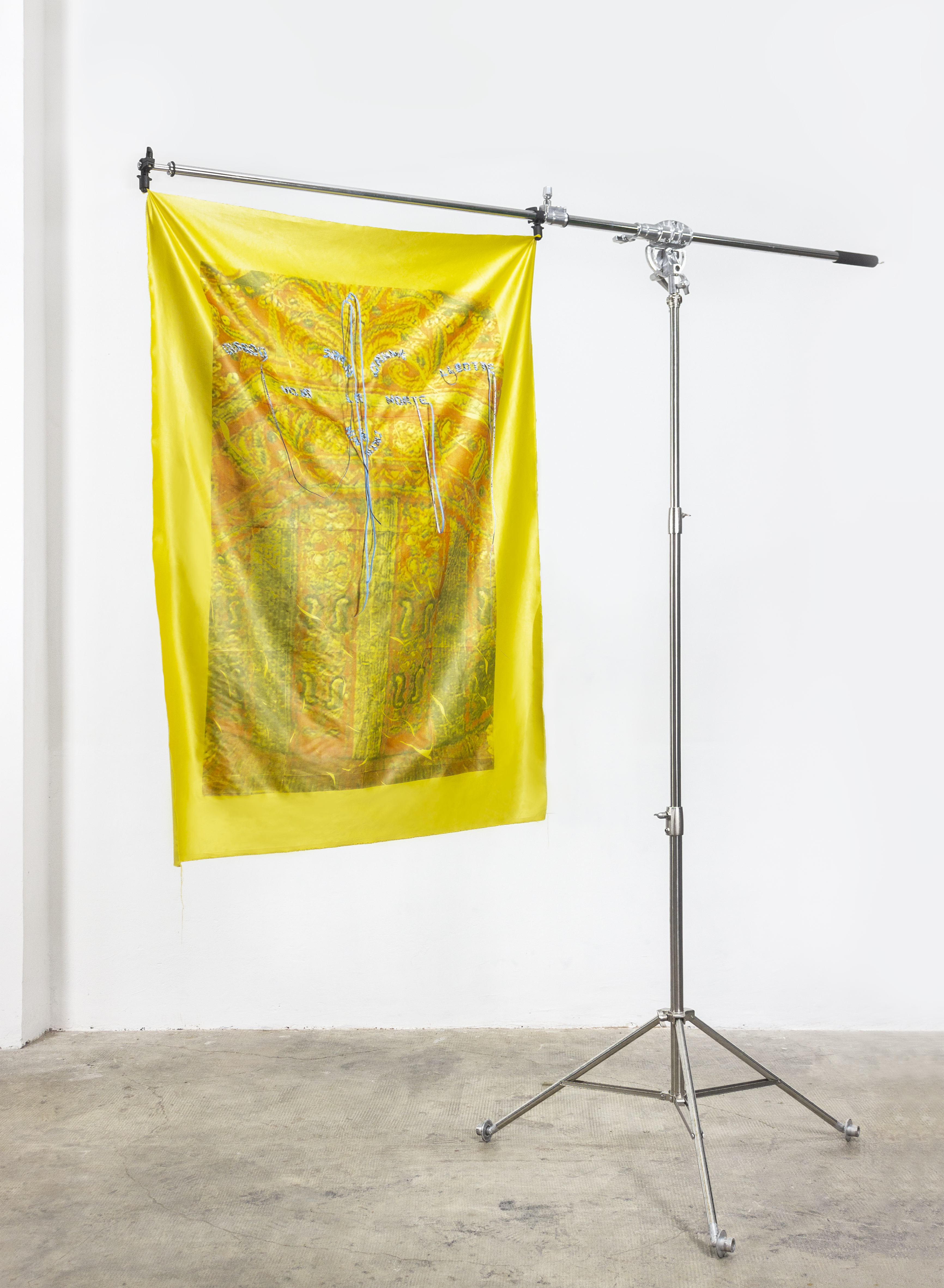 QUANDO SBAJO DAMME LI BOTTE, VOJO LA MORTE, NUN ME CACCIÀ, 2020
Contact photo printing on cotton satin, blueback paper embroidery
107 x 150 cm _
Photo courtesy of the artist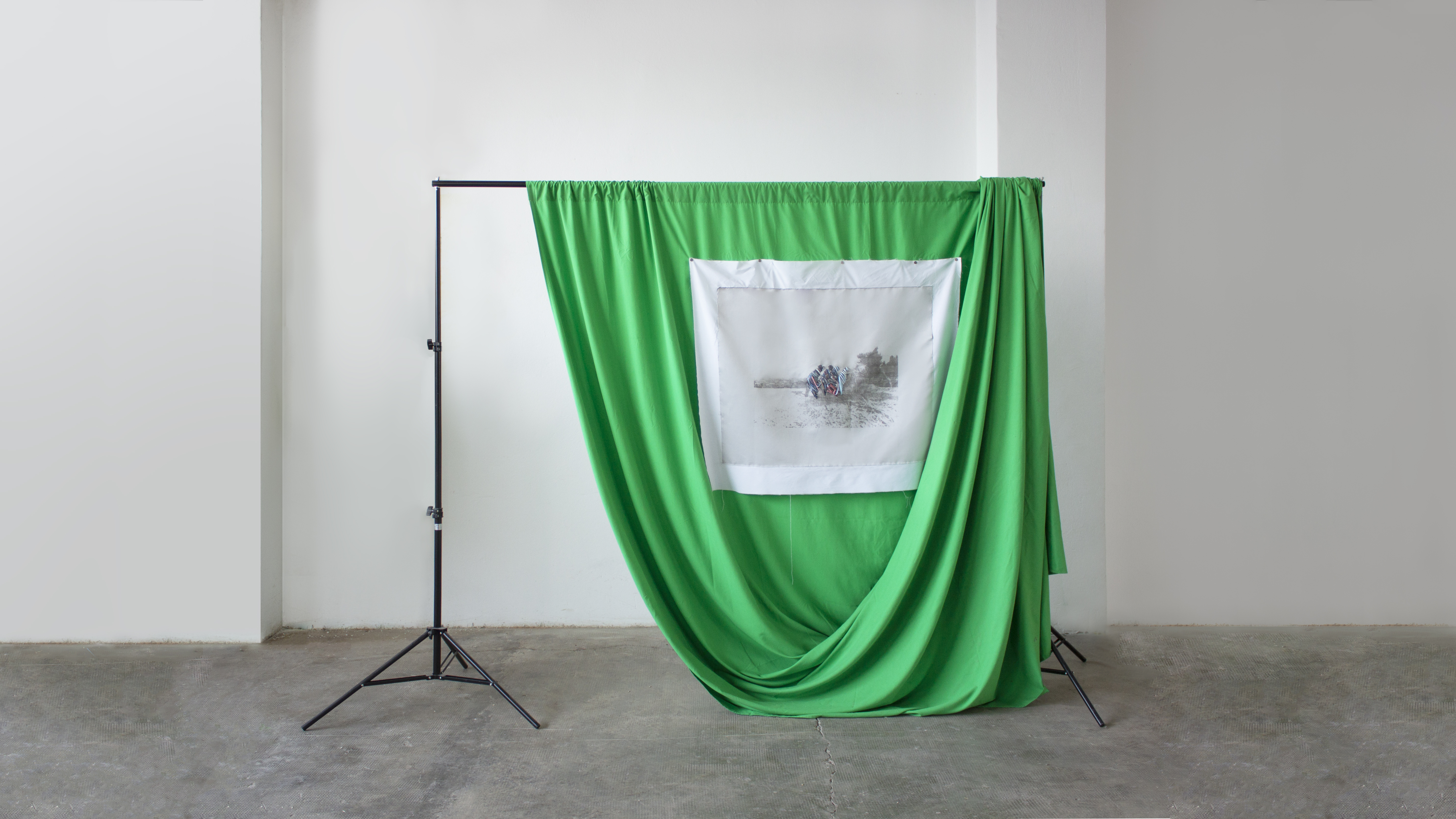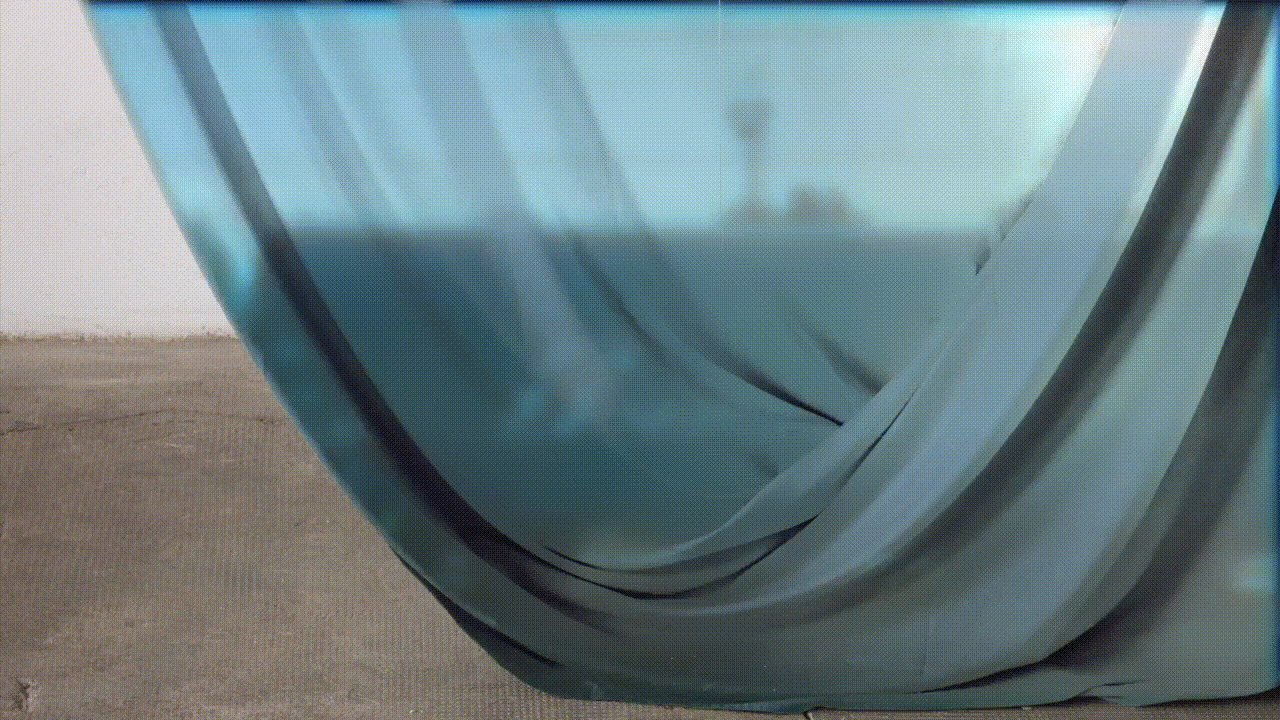 LA VITA DICE CHE MANCU HEDI MIA, 2021
Contact photo printing on cotton satin, blueback paper embroidery, greenscreen,
stand unit
Variable dimensions _Photo courtesy the artist
(C.5) IL LAVORO NEI CAMPI,
2020
---

Il lavoro nei campi è parte di un progetto più ampio, ispirato alla tradizione dei canti popolari italiani meridionali. Divisi in cicli, essi scandiscono le fasi dell'esistenza e del lavoro umani.

Questo ciclo è dedicato ai canti del lavoro, necessari per ritmare e rendere sopportabili le condizioni inumane ancora oggi diffuse, come nel sistema del caporalato.

Il lavoro è costituito da un grande ricamo su tessuto stampato a mano che rimanda ad elementi di questo immaginario, in particolare l'abito tradizionale della domenica, giorno del riposo. Tratta da un canto popolare, la frase Quando sbajo damme li botte, vojo la morte, nun me caccià, viene cucita sull'immagine della schiena dell'abito, insieme a fotografie di cronaca che documentano condizioni di lavoro drammatiche. Le immagini dell'attualità, tagliate in strisce sottili, diventano un filo per ricamare dando corpo alle parole della tradizione, congiungendo passato e presente nel nome dello sfruttamento.
_

Work in the fields belongs to a broader research inspired by the tradition of southern folk songs. Divided into cycles, they mark the stages of human existence and work.

This cycle is dedicated to work chants, necessary to instill a time and to make the inhuman conditions bearable, as in the so-called "caporalato" system (illegal recruitment) – still widespread nowadays.

The artwork consists of a large embroidery on hand-printed fabric that recalls elements of this imagery, especially the traditional Sunday suit, day of rest. Taken from a folk song, the lyrics Quando sbajo damme li botte, vojo la morte, nun me caccià (When I make a mistake beat me, I want death, don't kick me out) are sewn onto the image of the back of the gown, together with news photographs providing evidence of the dramatic working conditions. The daily news pictures, cut into thin strips, become an embroidery thread to give substance to the words of the tradition, connecting past and present in the name of exploitation.